Sustainability Policy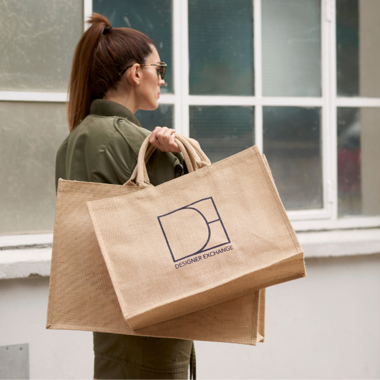 We have seen a huge shift in the shopping habits and priorities of shoppers in recent years, which has been accelerated even more so in the last year due to the global COVID-19 pandemic. There's a larger focus on pushing for more sustainable and greener practices, social justice and being kinder to the environment as well as one another.
We have always believed that it's time to slow fashion down and rethink the world's approach to luxury fashion. We see a future where luxury and fashion can play a role in healing our planet by promoting greener shopping habits such as shopping preowned and preloved pieces. That's why we've built the Designer Exchange platform to integrate sustainability within the luxury fashion world - an industry that had a large impact on the environment.
Globally, the fashion industry creates around 13 million tons of textile waste per year, of which 95% could be recycled or reused. We believe that as part of that industry, we can do better. We want to redefine how the world understands luxury to include respect for the planet and human rights. We see that part of slowing down fashion is fighting against overproduction and overconsumption. Whilst some fast fashion companies are capitalising on the sustainable fashion movement by increasing the production of organic cotton and take-back programmes, this just continues to contribute to the cycle of excessive production.
At Designer Exchange, we're committed to making sure that we operate our business as sustainably as possible. Behind every decision we make, recycling and sustainability is at the heart of everything we do.
Shopping preloved fashion is just one way to contribute towards a circular fashion system by helping to extend the luxury life-cycle rather than contributing to landfills. Selling or swapping your unwanted clothes or bags is a great way to give your items a second chance.
As a company, we pride ourselves on holding recycling and green fashion at the forefront of our business. But being a business, there are naturally some areas that create a larger carbon footprint than we would like.
That's why our sustainability objectives are:
Reduction: to reduce our carbon footprint and waste.
Innovation: to introduce new eco-friendly services.
Education: to teach all the team members and customers the importance of living and committing to a sustainable lifestyle.
We hold practicing sustainability at the core of our business. In 2020, we:
Switched to a bike courier for our internal stock movement to reduce carbon emissions.
Collaborated with DHL on their 'Go Green' initiative.
Removed nearly all of our paperwork from online orders.
Changed all in-store receipts to paperless as the default.
Improved our ecommerce packaging including peanuts made from soluble starch and recyclable cardboard boxes.
Donated abandoned products to SmartWorks - a UK charity that provides high quality interview clothes and interview training to unemployed women in need.
In 2021, we aim to:
Launch a Click & Collect service.
Use 100% recycled and recyclable materials in our packaging.
Remove all paperwork from online orders.
Collaborate with eco-conscious brands and partners on educating our customers.
We're proud to be shortlisted for the Draper's Sustainable Fashion Awards for the Recommerce Award and recognised for our sustainability efforts. We will continue to fight to slow down fashion and reduce our impact on environmental degradation. We hope you will join us in this journey.
- The Designer Exchange Team